Pretexts for Writing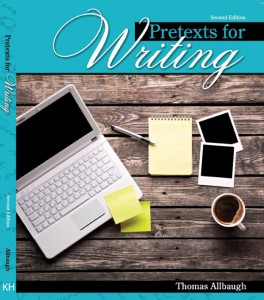 Written in an engaging style, Pretexts for Writing makes invention, rather than forms, a primary concern for writing and speaking. With this emphasis, the text guides students in the following areas:
Process Knowledge: Encourages novice writers to rethink and deepen a personal approach to writing processes and the complex demands of composing text.
Rhetorical Knowledge: Engages students in important aspects of persuasion, especially when dealing with culturally divisive issues.
Community Knowledge: Emphasizes the importance of community values lurking in commonplaces when writing persuasively.
Genre Knowledge: Provides an introduction to college genres of argument, research, and report writing. Review and evaluation essays, opinion essays, character profiles, and consensus-seeking argument are given special focus as well.
*Provides an introduction to narrative writing and creative nonfiction.
*Instructs in key issues of raising research questions and the successful use of documentation.
Developmental Understanding: Provides the basis for continued development in future writing courses.
Grammar: Placed between each chapter, grammatical interludes, using terms of traditional grammar, introduce students to a working writer's grammar.