June 29th, 2014 by
Tom
Last night, I played the role of proud papa as I attended my daughter's first art talk at the Pomona Framehouse/
Main Street Gallery. Toiling alongside her mentor, Bill Catling, a sculptor in his own right, my daughter, Carolyn Allbaugh, worked for six months to create ten bronze figures for this show. Some were based on women she knew, and some were not.
As the proud father (I recorded her talk and everything that was said during her talk about her work and herself), I will admit that my wife and I passed the word around about our Carolyn's show at our work and in our church. I should add that the response was overwhelmingly positive and congratulatory. Though one person looking at her announcement said, "Oh, they're nudes," as though this put her work in a bad light, most people we shared this with didn't seem to notice this and were instead impressed with her work. I got over it and focused mostly on the encouragement coming from people we know.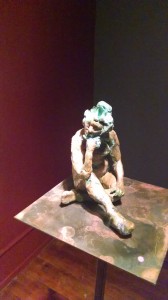 I've long been used to the idea that the church has a tenuous relationship with art and a narrow bandwidth on what will be deemed "acceptable." A platonic dislike for art, the material, and the body seems to run as a mostly unconscious stream through most church aesthetics, so it is not surprising that sincere representations of the human body will be deemed "controversial." At the same time—and this is surprisingly contrary to Plato—big emotion, even emotional manipulation, will often find a home in the hearts of church-goers everywhere.
The talk my daughter gave last night, however, addressed some of this. Being mostly outside of the field, I don't get to hear conversations about sculpture and painting every day. Since what we hear and do everyday tends to feel like it is normal, I feel a need to pass on some of what I heard.
Nudes the Way Artists See Them
First, as my daughter noted, the depiction of nudity in her figures was not sexual but an attempt to express something important about how women feel about themselves. Indeed, I was privileged to observe how strongly the women in attendance responded to the emotional quality of her work, some claiming that they recognized themselves in the figures.
George Cuttress, the owner and curator of the Main Street Gallery, underscored this when he stated that he and his wife have long valued nude figures done by women. "In these times of commercialism of the human body," he notes in his Gallery Statement for Carolyn, "from advertising in all forms of media, we are brainwashed into accepting what's in reality abnormal as to how we all should look. It is so refreshing to put things in a more balanced perspective and view ourselves through the eyes of the 'woman' as artist."
I was so gratified that someone of Cuttress's stature would acknowledge Carolyn's ideas and expression. And her figures were very expressive, "refreshing" in this regard, as one sculptor in attendance said. And that was another interesting point to reflect on as the night drew to a close.
Mentors and Meaning
Professor Bill Catling, MFA, Carolyn's mentor, noted that there is currently a turning away from the cheap and meaningless in the art world and a greater interest in what is meaningful. As a Christian, Catling quoted Carl Jung to the effect that "meaninglessness is a disease."
Having been exposed to mostly Modernist manifestos when I was studying and then Postmodern ideas of meaning in texts as mere "traces," I found this startling. My daughter's figures, termed "abstract" by George Cuttress, but also "expressive," would seem to capture something of what some may be moving toward with their art.
I am reminded, of course, that meaningful art does not mean conventional. There is a tendency to equate the two and to accept only those forms that we recognize as meaningful, mainly due to their being conventional. But I suspect this isn't entirely the case. If it were, then we'd all be writing romances and murder mysteries and painting landscapes again—traditional landscapes, the sort of art that Hitler endorsed as worthy of the 3rd Reich after his rise to power.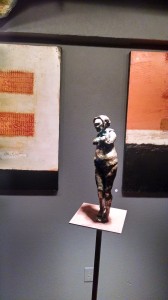 Posted in Uncategorized| 11 Comments